Protect Your Tampa Bay Home From Drywood Termite Damage
Termites are a serious problem for homeowners in the Tampa Bay area. Our hot climate allows termites to be active all year long, and they can do a serious amount of damage to a home when they eat away at it 24 hours a day, seven days a week. Although there are a few species of termites in our area, one of the most common to infest homes is the drywood termite. Drywood termites can be particularly problematic because they infest solid, dry wood that is not already wet or damaged and because they don't need to be in contact with the soil.
If you think you have drywood termites in your home, taking quick action will minimize the damage they will cause your house. If you don't take action, they will continue to chew tunnels through the wood, weakening your home's structural supports in the process. Green-Tech Termite and Pest Control provides drywood termite control services to eliminate your termite problem.
Drywood Termite Control From Green-Tech Termite And Pest Control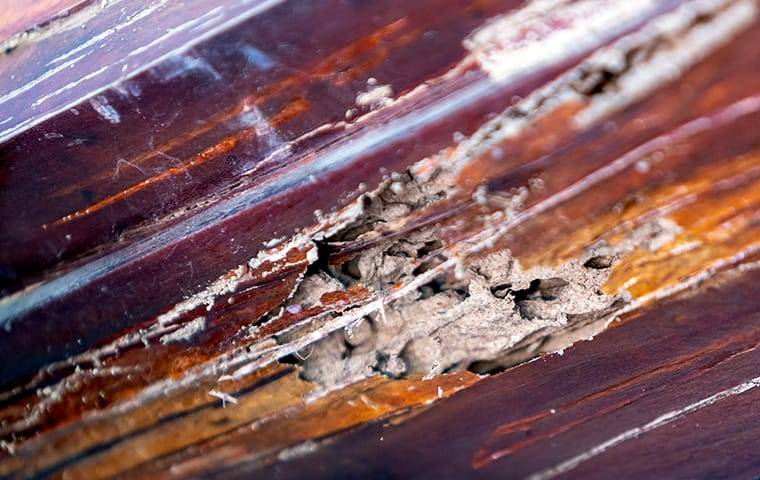 At Green-Tech Termite and Pest Control, we offer several drywood termite control options. We'll make a recommendation about which treatment method will be most effective based on what we find during our thorough inspection of your house.
Fumigation
Fumigation treatment is a whole house treatment that requires you to leave your home for a few days. We'll provide you with a prep sheet that explains everything you must do to prepare your house before the treatment. Once that is complete, we'll place a tent over the entire structure and fumigate the interior. We'll fill the house with Vikane or an equivalent gas that eliminates all drywood termites active in your home. The gas is then allowed to dissipate before you return.
Effective from the initial treatment date and continuing for one year after, we will protect your property from drywood termites with additional fumigation services should they be necessary. This plan does not control or protect against subterranean or Formosan termites due to the nature of the species.
Liquid Treatments
We also offer a liquid treatment to eliminate drywood termites and protect against them. Effective from the date of the initial treatment and for one year after, we will treat your home using industry-standard insecticides to control and protect against drywood termites. If live termites get into your house during the year following the initial treatment, we'll re-treat it at no additional cost.
Spot Treatments
If your drywood termite infestation is small and localized, we may recommend a spot treatment. We have several treatment methods that we use for spot treatments, but they all involve directly treating the affected areas.
Effective from the date of the initial treatment and continuing for 30 days after, we will provide your home with spot treatments to the infested areas using industry-standard insecticides to control and protect against drywood termites.
We can also offer recommendations on preventative measures you can take to avoid a termite infestation in the future.
Warranty
We offer a one-year warranty with our drywood termite control services. You can renew this warranty, and it includes an annual inspection. If we find signs of termites, we'll re-treat at no additional charge.
Keep Destructive Drywood Termites Out Of Your Tampa Bay Home
Termites are one pest that you do not want in your house. If you suspect they've already gotten inside, contact Green-Tech Termite and Pest Control right away. We'll work with you to find the treatment method that will lead to the fastest, most effective solution for your particular infestation. Contact us today to request your free quote.
Learn more about our home pest control and commercial pest control solutions.
Request Your Free Inspection
Complete the form below to schedule your no obligation inspection.