Protecting Your Tampa Bay Home From Subterranean Termites
Tampa Bay is home to multiple championship sports teams, our fair share of snowbirds, and millions of subterranean termites. Like most people who call the Tampa Bay area home, subterranean termites not only enjoy the hot, humid climate, they thrive in it. Any home not protected against termites is at risk of ending up with an infestation, and if termites get into your house, they will destroy the wooden structures inside.
Green-Tech Termite and Pest Control has been protecting homes in our service area from subterranean termites since 1980. We have the experience necessary to identify, eliminate, and prevent termite infestations and the damage they cause. If your home is not currently protected, or if you suspect termites have already gotten inside your house, contact us today.
Subterranean Termite Control From Green-Tech Termite And Pest Control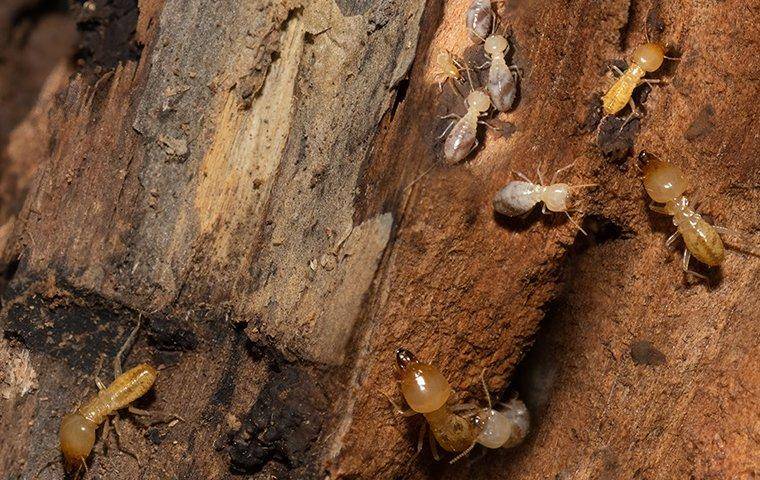 Inspection
Determining if you have a subterranean termite infestation in your home is not an easy task for most homeowners. Subterranean termites have to stay underground, out of the sunlight and air, in order to survive. That means that if they get into your house, you won't see them walking around unless you happen upon a termite swarm during mating season. Because of that, there are very few signs that termites are in your home until they have caused serious damage.
That's why it's wise to have the professionals at Green-Tech Termite and Pest Control conduct a termite inspection of your house. We have over 40 years of experience identifying the subtle signs of a termite infestation, so we know where to look and what to look for to determine if termites have infested your home. During our inspection, we'll check all accessible areas, including the crawl space and attic. Once we complete the inspection, we'll develop a treatment plan for your home.
Treatment
Termite treatments can eliminate active colonies as well as protect homes from future infestations. We recommend that every home have termite control services performed, whether you have an active infestation or not. At Green-Tech Termite and Pest Control, we offer a number of conventional treatment methods that we'll tailor to your home's particular termite control needs.
Our conventional methods include:
Drilling through concrete and treating in the holes.

Trenching and treating the soil areas around foundation walls.

Injecting foam into plumbing voids on the interior of the structure.

Spot applications on active colonies, which may include drilling into wood members.
Our technician then patches any holes made during our treatments after the treatment is complete. The products we use are non-repellent, undetectable liquids that termites cannot see, smell, taste, or avoid. When exposed to this repellent, they inadvertently spread it to their entire colony, where they are all eventually extinguished. This product also works against other wood-destroying insects, such as carpenter ants, powder post beetles, and carpenter bees.
Follow Up
We offer a one-year warranty with our termite control services which you can renew on an annual basis. At the time of the contract renewal, your service technician will return to your home to complete a "booster" treatment to the soil areas of your property; this compensates for rainfall and high temperatures that work to break down the product. As long as you continue to renew your warranty, we will return every year for the booster treatment. The warranty also ensures coverage for any new infestations at no additional charge.
Additional Subterranean Termite Control Services
The following termite services are available at an additional charge:
Stucco Cutting
We will cut the stucco on your property to expose the concrete slab in order to apply proper treatment and allow for adequate air circulation behind the wood frame walls.
Vapor Barrier
We will install a heavy poly-plastic to your crawl space floor to prevent moisture problems and reduce the chances of a termite infestation in the crawl space area. This procedure will also keep mildew and fungus from growing and help reduce heating and cooling costs.
Wood Debris Removal
We will remove all cellulose wood debris from the crawl space to eliminate a food source for subterranean termites.
Floor Supports
We will install floor supports to the crawl space to help support the subfloor from sagging and falling. This service is usually associated with and necessary when termite and moisture damage has occurred.
Soil Pre-Treatment
This service is for new construction. We will treat the identified property for subterranean termites by applying termiticide to the soil where the concrete slab will be poured in accordance with the label standards and the state regulations governing pre-treatments.
You may continue the Full Protection Plan for Repair & Re-Treatment each year for as long you own the property. The pre-treat Protection Plan is transferable to a new owner upon an inspection and evaluation of the property. If conditions are conducive to an infestation at the time of transfer, the property must undergo complete treatment.
A Protected Home Is A Termite-Free Home
Termites are a serious threat to any structure in the Tampa Bay area that doesn't have termite protection. Keeping your home termite-free or getting rid of an active subterranean termite infestation requires professional services at Green-Tech Termite and Pest Control. Our experience is unmatched, and we offer the wide range of treatment options you need to protect your home. Contact us today to request your termite inspection.
Learn more about our home pest control and commercial pest control solutions.
Request Your Free Inspection
Complete the form below to schedule your no obligation inspection.