Delivering The Insulation Your Tampa Bay Home Needs
When people think about insulation, they typically think about its energy-saving properties. A well-insulated house keeps out the heat and retains the cool air during the hottest days of summer, and it keeps out the cold and retains the heat on the coldest days of winter. Because of this, a well-insulated home saves energy and money since you don't have to run your air conditioner or heat as frequently or at extreme temperatures.
However, energy savings are just one benefit of a well-insulated home. If you have the right kind of insulation, you can benefit in many ways. TAP insulation provides acoustic benefits by minimizing loud noises from outside, it protects your home from pests, it is fire-retardant, it is environmentally-friendly, and of course, it saves you money on heating and cooling costs.
If your Tampa Bay home's insulation has been damaged by pests or needs to be replaced, or if you simply want insulation that provides more benefits than what you have now, it's time to contact Green-Tech Termite and Pest Control. We offer insulation services to remove old, damaged insulation and replace it with TAP insulation.
TAP Insulation Services From Green-Tech Termite And Pest Control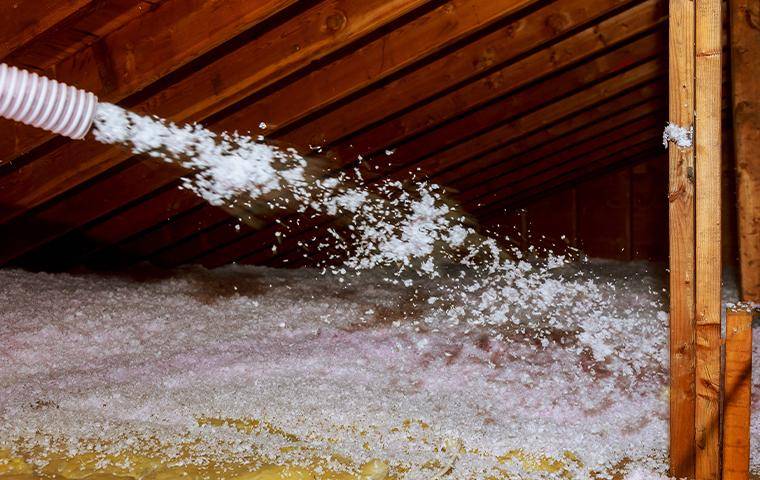 When you need our insulation services, we'll begin by removing any insulation in your attic that rodents have damaged. It's important to get rid of damaged insulation for a couple of reasons. First, damaged insulation doesn't do its job. Second, insulation damaged by rodents usually has urine, fecal matter, and mold in it that is harmful to your family's health.
Once we remove the old insulation, we'll blow in the TAP insulation. As mentioned above, TAP insulation has many benefits over traditional insulation, one of which is pest control. TAP insulation has boric acid in it. Boric acid is undetectable to insects, and once they come in contact with it, it affects their nervous and digestive systems. TAP insulation is effective against the following pests:
Earwigs

Centipedes

Millipedes

Cockroaches

Booklice

Beetles

Ants

Silverfish

Crickets

Termites (Including Formosan)
After proper installation, TAP insulation resists heat transfer by convection, conduction, and radiation. Since it is more efficient than ordinary insulation, heating and cooling systems do not need to work as hard and, in some cases, can even be downsized.
Your House, But Much Better
A well-insulated home will save you a lot of money in energy savings, but it can also save you money on pest control. It will make your home a safer, more pleasant place to live. If your house needs new insulation, Green-Tech Termite and Pest Control can provide you with the TAP insulation you need to save you money and protect your home. Contact us to request a free quote for our insulation services.
Learn more about our home pest control and commercial pest control solutions.
Request Your Free Inspection
Complete the form below to schedule your no obligation inspection.